As well as a music festival, exhibition and school workshops, Sanaa delivers multiple events/activities in the South Australian community. Focusing on bringing communities together through different forms of creativity, we work towards enhancing intercultural understanding, thus leading to respect between individuals.
Sanaa Street Art
Each year, incoming African street artists have collaborated with local South Australian street artists, on large scale murals right across the CBD. See more about about the Sanaa Street Art program here.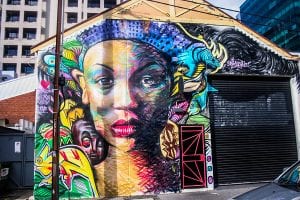 Octopizzo – The Journey
Octopizzo is an award winning performing artist, humanitarian, entrepreneur and prominent supporter of UNHCR Kenya. He founded Octopizzo Foundation – an organisation supporting vulnerable Kenyan youth in realising their potential, and breaking free from the cycle of dependency. The accomplished Octopizzo, shared with audiences his fascinating journey. Presented thanks to the support of The Bob Hawke Prime Ministerial Centre. 
Sanaa Story Telling – Poetry
In 2018, in partnership with the Bob Hawke Prime Ministerial Centre, presented poet Zainab Zahra Syed, internationally touring Pakistani writer, performer, educator and spoken word artist, presented a Hawke Centre Lecture, to an audience of 150 people. Following her talk, in partnership with Draw Your Swords, we hosted an Open Mic spoken word event. Imagery from the event, below.