Since its inception in February 2017, Sanaa Festival has been a popular event in the South Australian community. Showcasing the work of Sanaa's international artists alongside locally based Australian musicians, artists, foodies and creatives, the festival is a taste for the senses. The event has been described by audiences as an open space, where anyone from all walks of life, and all cultures, can congregate to appreciate and learn more about the cultures from which some South Australians originate.
Sanaa Festival 2023
Sanaa Festival returns to Light Square in 2023, with a family friendly celebration of music, culture and food. Showcasing local South Australian and interstate musical talent from the emerging and global music communities, alongside hiphop and poetry workshops, live mural painting and arts and fashion stalls. Expect an authentic global experience unique only to Sanaa!
You can purchase tickets via FringeTix.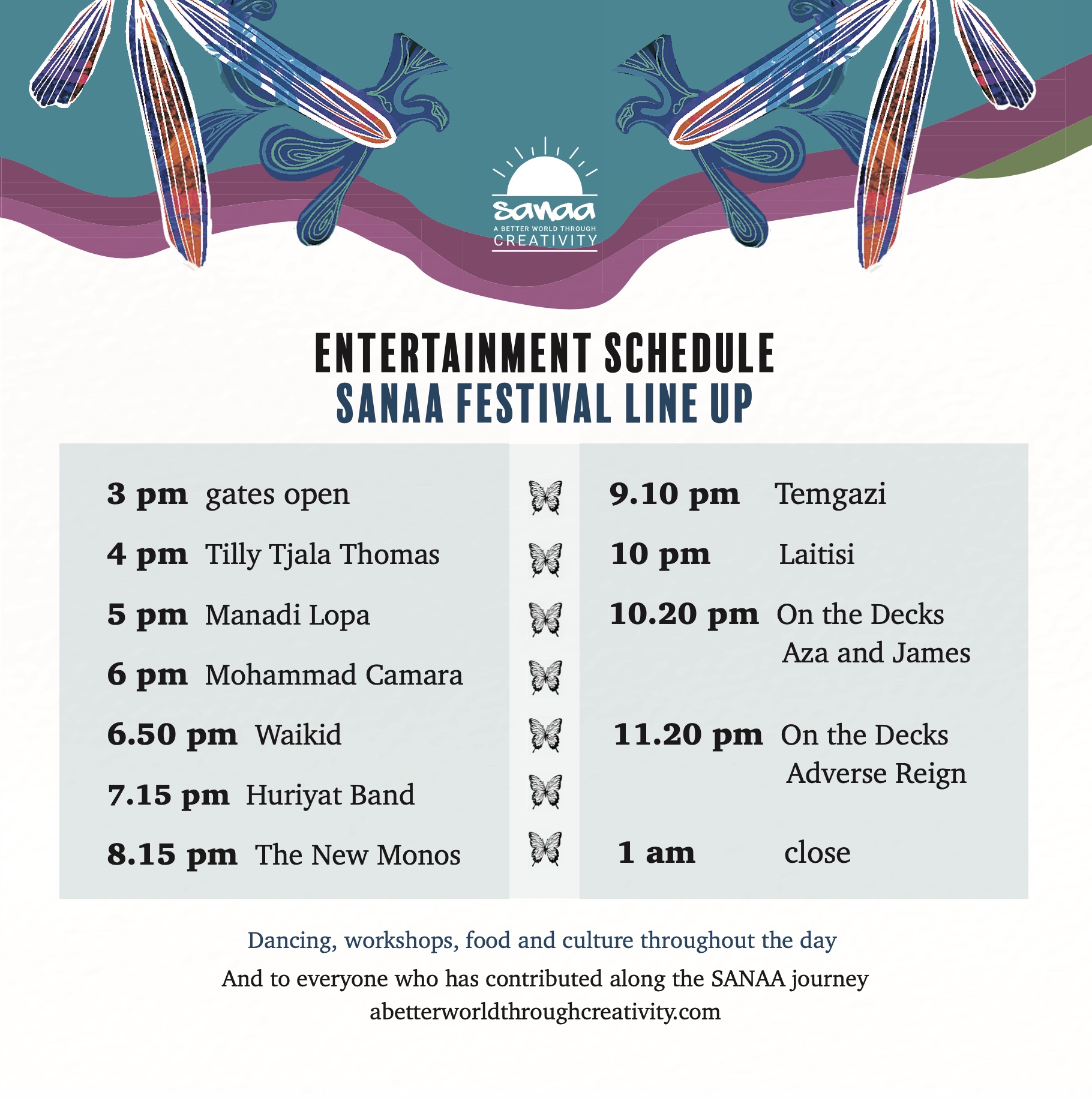 Sanaa Festival 2022
Sanaa Festival returned to the streets of Adelaide Saturday 19 March 2022 in Light Square. Headlined by proud First Nations duo Marlon X Rulla who brought their unique mix of soul and hip hop to the stage alongside a host of musicians including soul singer Elsy Wameyo, Cuban trumpeter Lazaro Numa, Ghanian reggae singer Manadi Lopa, hip hop activist DyspOra and Melbourne based Amaru Tribe, who performed traditional music from Latin America combined with new contemporary sounds.
Sanaa Festival 2020
Sanaa Festival moved from Light Square (2019), back into the street – hosting Sanaa Street Party in partnership with 55ml in Mill Street. Showcasing local South Australian musicians including Elsy Wameyo, Argus and the Liar as well as Byron Bay local Pat Tierney alongside a line-up of DJ's, the party attracted a young audience of over 600. What a party it was!! Check out some photos below.
Sanaa Festival 2019
This year's festival hosted Saturday 23 February, featured a diverse line up of musicians including Indigenous artist Dallas Woods, Kenyan superstar Octopizzo, the charismatic Lamine Sonko and the African Intelligence, alongside local South Australian emerging and established musicians including DysPora, Elsy Wameyo, Lenon Marron and Latino band Ah Hum.
A warm summer day, a festival full of smiles and conversations, Sanaa Festival 2019 attracted an audience of 1700. Check out the photos below.
Sanaa Festival 2018
The 2018 Sanaa Festival was a great success. Check out some images below!
As well as the incredible music talent, the food offerings will be plentiful as well as a host of markets showcasing globally inspired fashion, arts and crafts. Saana prides itself on the family-friendly aspect of the festival and encourages families to come along and bring their kids to immerse themselves in this wonderful celebration of culture.